Published 22 days ago
The Land of 10,000 Fires | Seeing the Light
:
Alaska wildfire from VIIRS–a nice post by our CIRA colleague, Curtis Seaman. 
The air quality in Fairbanks due to wildfire smoke has been quite poor lately.
-Tom
Published 23 days ago
View from UAF west ridge campus into the smoke - July 7th, 2015
Fire season is in full swing in Alaska.
Above you can see a map of Alaska's current fire situation showing the current 7 day satellite fire detections and yesterday's SNPP VIIRS image of Alaska.  
The smoke you can see launching in the July 6th image have slammed into Fairbanks in an impressive way today in the second photo taken from a west ridge turn out on upper campus. You can barely see the UAF Museum in the center of the image and can't see the traffic circle at the bottom hill.  
The last image is a screen cap from the State of Alaska's DEC Division of Air Quality sensor for Fairbanks showing an extreme spike in particulate matter (smoke)  which is creating a very unhealthy environment for those of us with lungs.
You can see the latest satellite imagery from GINA on our Feeder website at: http://feeder.gina.alaska.edu 
The SNPP image is available at:
http://feeder.gina.alaska.edu/npp-gina-alaska-truecolor-images/2015_07_06_23_12_jd187

The 7 day fire detections are from GINA via our partners at the USDA Fire Service.  You can grab the  MODIS and VIIRS 7 day fire detections and GIS shapefiles from the following locations:
http://activefiremaps.fs.fed.us/data/fireptdata/modisfire_2015_ak_last7.htm

http://activefiremaps.fs.fed.us/data_viirs_iband/fireptdata/viirs_iband_fire_2015_ak_last7.htm
You can check out latest air quality for Station 17 (fairbanks) at DEC's website:
http://dec.alaska.gov/Applications/Air/airtoolsweb/Aq/Station/17

-dayne

Published 2 months ago
GOES Super Rapid Scan video of severe thunderstorm from our colleagues at CIMSS. This is a great illustration of the benefits of 1-minute SSRO imaging. More of this to come when GOES-R launches in March 2016.
GOES-15 (GOES-West), GOES-14 and GOES-13 (GOES-East) visible images showing the development of a severe thunderstorm which produced multiple tornadoes, and hail up to 3 inches in diameter over west Texas on May 19, 2015. GOES-15 and GOES-13 were in standard scanning mode (images generally every 15 minutes), while GOES-14 was in 1-minute Super Rapid Scan Operations for GOES-R (SRSO-R) mode. Toward the end of the animation, note the merger with the smaller northward-moving storm.

Published 3 months ago
Tom Duncan of the Fairbanks North Star Borough (FNSB) just pointed out to GINA the most recent update to Google Earth for Fairbanks now includes 3d buildings.  
Grab Tom's 3d tour of downtown Fairbanks.  Don't forget to check the 3D buildings in the Layers menu to get the full effect.
Tom's announcement:

A few days ago an update of Google Earth was released that includes a 3D view that covers much of the Fairbanks area, including west to the base of Chena Ridge, north to intersection of Ballaine and Goldstream, east to the intersection of Steese and Chena Hot Springs Road, and south to the south side of the Tanana River.  Sorry North Pole, not covered yet.

The navigable 3D view gives a stunning new perspective for an online map, and has many exciting potential applications.  The measuring tool has also been enhanced to use the new layer to measure building heights.  I created a tour using the GoogleEarth tools to give you an idea what it can do.  I am still learning how to create a tour in Google Earth, so please forgive the occasional jumpiness.

You will need to have Google Earth installed on your machine.  Then double-click on the attached kmz file to view the tour.  Enjoy!
Published 7 months ago
Alaskan Sunshine Doesn't Burn the 24-hour Microphysics Product
:
In collaboration with the Geographic Information Network of Alaska (GINA) at the University of Alaska, NASA/SPoRT generates two VIIRS and MODIS microphysics satellite products for use by the National Weather Service in Alaska…
A guest post by Eric Stevens to the NASA SPoRT blog regarding a RGB Night-Time Microphysics product being delivered to the Alaska National Weather Service by SPoRT and GINA.
This work is supported by the NOAA NESDIS GOES-R and JPSS program offices.
-Tom
Published 8 months ago
UAF gets $1.7 million grant for Weather Service upgrades
:
FAIRBANKS — A new satellite dish goes up next spring on a hillside off the Steese Highway as part weather forecast technology upgrade funded in the wake of Super Storm Sandy.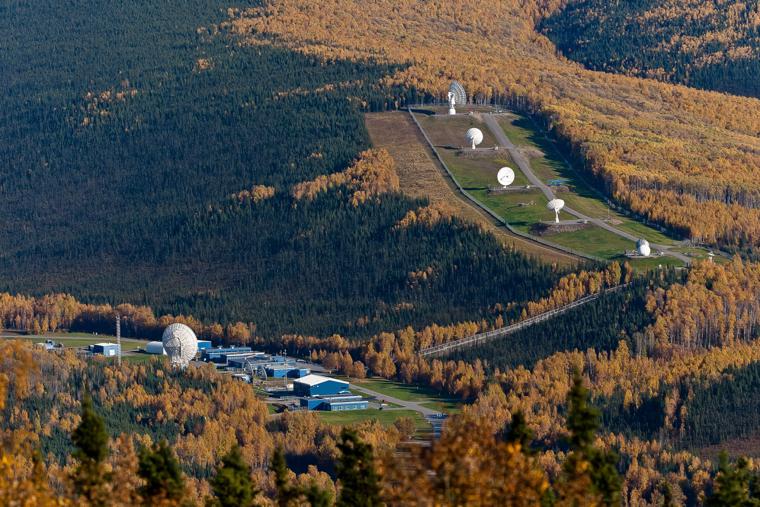 A nice writeup of an important project for UAF GINA and for near-real-time satellite data provision in Alaska. This project is taking our systems down the research-to-operations path, supporting a critical need for the NWS in Alaska.
Many thanks go out to our partners helping to make this succeed at NOAA NESDIS, NWS OST, and NWS Alaska Region.
Photo courtesy Light Trekker Studios.
-Tom